FraudScore - the results of the 2017
2017 was an eventful year for FraudScore. Our team attended 24 conferences in 8 countries where we met really great and talented people and companies and we're very pleased that some of them became our clients. Among them such cool companies as Social Discovery Ventures, AdmitAd, BoomMob, Brisk Ads, Kimia, Rocket10, and others.
FraudScore tech team worked hard on the quality of the product. We added 20+ new fraud-detection techniques, scored more than 300 000 000 conversions, checked more than 1 billion post-install events and more than 10 billion clicks.
We expanded our team as well. Funny fact, the total employees' weight is now more than 1000 kg! We keep going and growing bigger.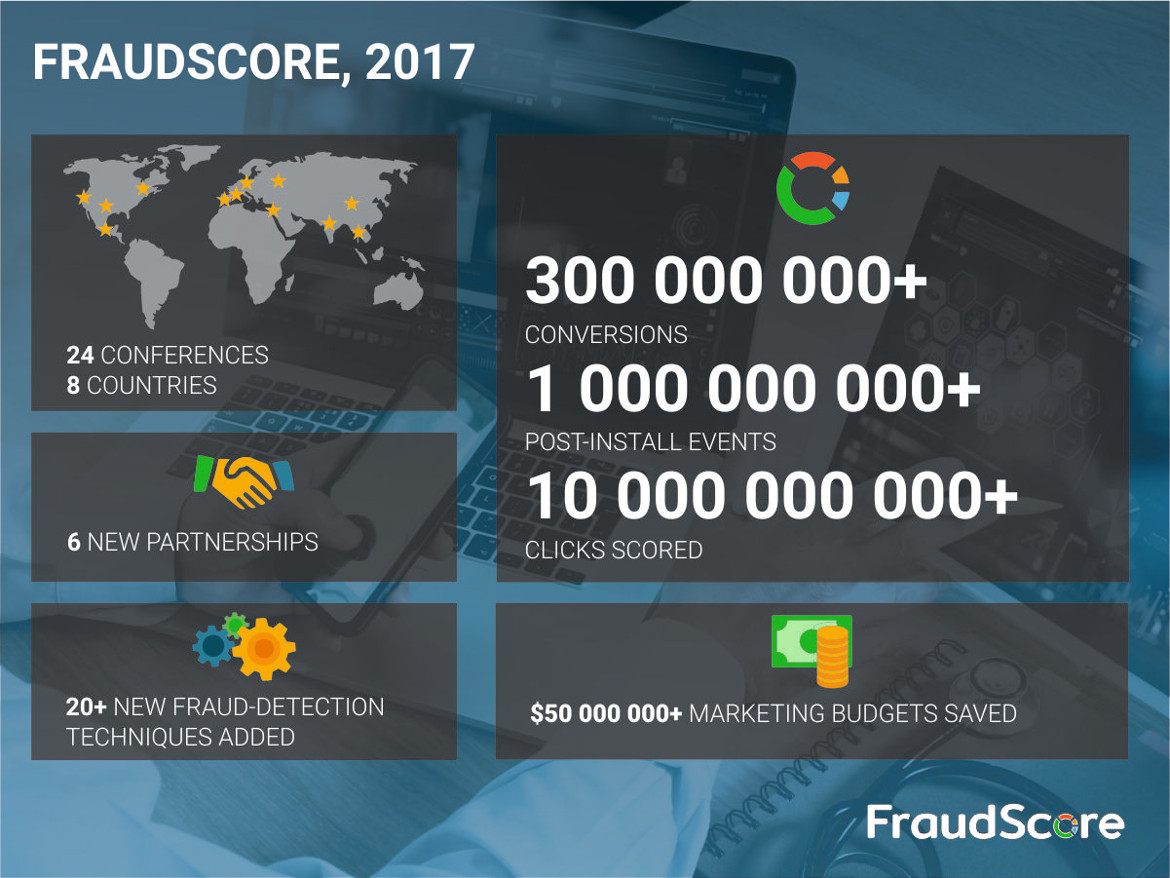 Mobile ad trends in 2017
The main trend in 2017 was the huge amount of attribution fraud (click-spamming, click-injection). All of the participants (anti-fraud systems and trackers) of mobile fraud market recognize this problem. Bots are evolving and adware apps increase its functionality.
The amount of global advertising revenue wasted on fraudulent traffic, or clicks automatically generated by bots, reached $16.4 billion in 2017, according to a new study commissioned by WPP and cited by Business Insider. That figure is more than double the $7.2 billion the Association of National Advertisers estimated to be lost due to ad fraud in 2016.
Product progress
More than 20 new detection techniques were implemented that allowed FraudScore to fight new types of fraud (eg. attribution fraud). Moving to a new warehouse (ClickHouse by Yandex) helped us to increase the speed and quality of scoring despite the fact that the amount of data has raised significantly. The quality of the argument basis was also enhanced. It allows our clients to set up the rejects in 2017 by themselves. Our partners and clients got an opportunity to customize alerts in FraudScore and receive emails every single hour.
FraudScore successfully launched its new product - FraudScore RT and brought it to the market. It helps clients to analyze clicks and impressions in the real-time via API, pixels, and JStags. We optimized it for the RTB platforms - API is extremely fast!
Now FraudScore offers one of the best fraud detection solutions on the market for CPM, CPC, CPI/CPA campaigns.
Tech Partners
In 2017 FraudScore announced several partnerships and integrations with great companies, such as Affise, Fuseclick, Offerslook, Yandex, Papyrus, and Optimob. Let's talk about some of them.
Yandex.AppMetrica
In 2017 FraudScore announced the integration with AppMetrica - Yandex analytics service for mobile applications. The integration with AppMetrica, a very popular solution for attributing installs and analyzing user behavior among mobile developers in RuNet, was a big step forward for FraudScore. Read the exclusive material and comments from experts on our blog.
FuseClick
FuseClick, is a mobile performance marketing tracking and data analyzing system, in 2017 started to integrate with FraudScore for additional data security. To help you to learn more about the methods to reduce mobile ad fraud, FuseClick has partnered with FraudScore. Read the easiest integration instructions guide and the exclusive material "Introducing Improved Anti Fraud Methods for Your Campaigns".
Papyrus
Papyrus and FraudScore have come to an agreement on strategic partnership — FraudScore became the first auditor connected to the Papyrus ecosystem. Papyrus is creating a transparent advertising ecosystem based on the blockchain technology so that to ensure the lack of fraudulent activity and bot traffic. Read more about it on the Papyrus blog.
2018 forecast
One of the main problems is still there: fraud is good for all stakeholders in the ecosystem except the one who is paying money. A fraudulent ecosystem which benefits everyone in the supply chain is difficult to fight against.
In 2018 and later, advertisers and agencies will continue investing in the knowledge and tools to fight mobile ad fraud. This will give them a competitive advantage.
The FraudScore team is also investing a lot in the R&D, adding new features and fraud detection techniques. More ad prevention and detection solutions are coming this year.
Our goal is to become the top fraud detection solution on the market and make online ads great again
- says Dmitry Isakov, FraudScore CEO.
FraudScore continues its journey in 2018. This year we are planning to visit more conferences related to ad tech and affiliate marketing theme. Keep updated about upcoming events on our FB page. Stay tuned!